THIS IS A DEMO CLICK HERE TO RETURN
Scroll
Down

ә = Away
The tongue is relaxed in the mouth with the tip touching the back of the bottom teeth. The jaw is open slightly. The lips are neutral.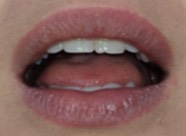 Sample Words Listen to these words. See if you can hear ә = Away
Practice Sentences See if you can hear the words in the sentences that use ә = Away.
I like to add tomatoes to my potato salad.
Amanda has always dreamed of a road trip around America.
The workout involved jumping backwards and forwards and a lot of lunges.
Challenge
Click on the words that contain ә = Away
Cookie control
- This site uses cookies to store information on your computer. By continuing to browse this site you are agreeing to this site's use of cookies & third party use of cookies via this site.